The Perfect Desk for any Creative!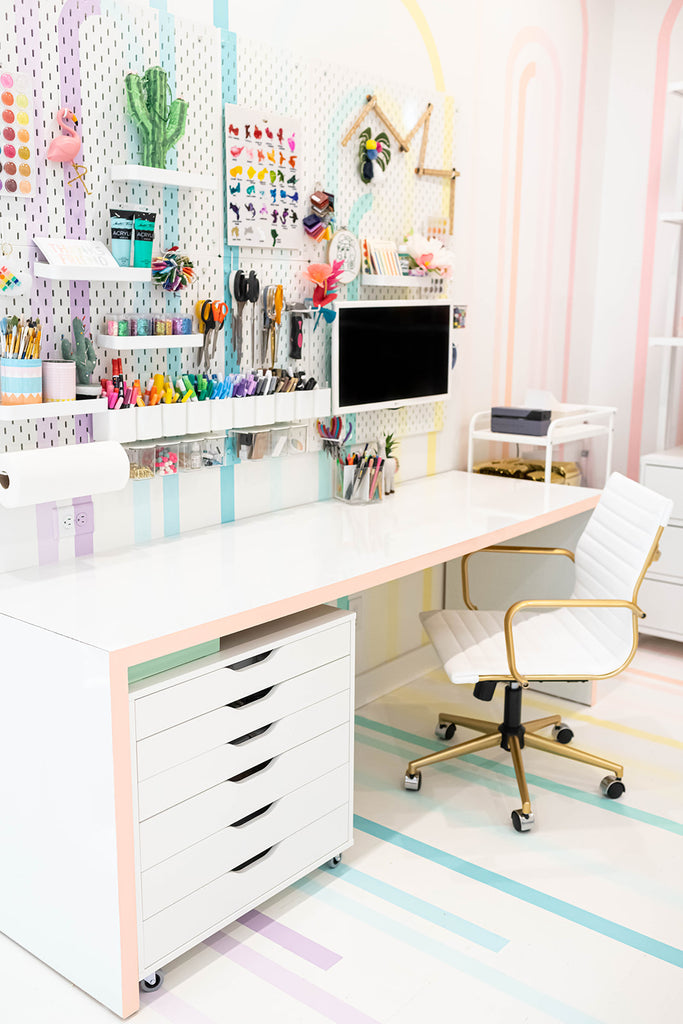 I teamed up with my friends at Formica to create a Desk space to create all my fun products. The opinions in this post are my own and may include affiliate links.
When I decided to take a break from my career as an interior designer to focus on creating products for my Etsy shop full time, I knew I was going to need to design the perfect space for maximum creativity.
Since I was a little girl, I have loved all things rainbow! So naturally I was going to carry this into the space that was just for me!  A space where I can unleash my creativity and make a mess and close the door until I am ready to create again. 
Approaching this space as a designer was like having myself as a client. How could I make this space the most functional to grow my small business while making it a space that makes me happy at the same time. 
I really think storage of supplies as well as a sprawling work space were at the top of my list. I was on the hunt for a desk surface that would be almost indestructible. 
From experience, I knew that a Formica desk surface was going to be the best bet. I ticked the 3 boxes I needed, durability, light color and affordability. I went to the Formica website and ordered a few free samples of the ones I was interested in. The one I was most excited about and ultimately decided to to with was the ImagiGrid pattern.
When I received the samples I put them to the test. I tried solvents, glues, markers and paints that I use on a regular basis and made sure that I was able to easily clean them off  of the surface of the samples. This was not a decision that I took lightly, I really needed a material that would stand up to all the things I was going to put it through!
The high gloss surface not only makes it easy to clean but also a dry erase writable surface. I think one of the coolest things about the ImagiGrid product is the one inch grid square pattern printed on the Formica laminate. It isn't only a perfect linear pattern to compliment the curvilinear arches on the walls of my space, this makes it so easy to measure stuff when I am cutting fabric, ribbons and measuring random things. 
My husband and I constructed the waterfall desks ourselves out of MDF and adhered the Formica surface with a strong adhesive. This was an affordable way to customize the size and design of the desks to my particular specifications. I chose a waterfall design to hide cords, garbage cans and storage pieces. I accented the desk surface with a colored edge banding to coordinate with my rainbow walls. Needless to say I couldn't be happier with my new Formica desks, not only are they functional but they are beautiful too!
XO, Jo
Joanna Gick